Our Books
---
Never Be Afraid: A Belgian Jew in the French Resistance
---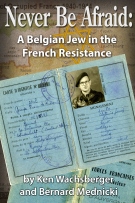 Not "like lambs to the slaughter"
An ugly mythology developed in the first generation after the Holocaust that six million Jews went to their deaths "like lambs to the slaughter." This myth of "the passive Jew" soon joined the folklore of bigotry along with the myth of "the happy Negro" in the pre-Civil War South. Fortunately, a growing body of literature, including Never Be Afraid: A Belgian Jew in the French Resistance, by Ken Wachsberger and Bernard Mednicki, has corrected this lie by documenting a massive resistance, originating in every ghetto and every concentration camp. Unfortunately, the Jews were outnumbered, living on starvation diets, and unable to trust members of the non-Jewish resistance, who were often anti-Semitic. Most who resisted died anyhow.
Bernard Mednicki is one who survived. A street-smart Belgian Jew from a working-class, Orthodox, socialist background, he fled Belgium with his family in 1940 when the Nazis invaded, assumed a Christian identity, and settled in Volvic, a small town in the mountainous region of southern France. There, a chance encounter with a prominent Nazi collaborator named Duhin forced Bernard to confess his Jewish roots and change the course of his destiny.
From the pogroms to the Holocaust to America
Never Be Afraid begins with Bernard's father and mother taking their family out of Russia to escape the pogroms and ending in Belgium on the way to America. It ends with Bernard finally bringing his family to America forty-two years later, after surviving the Nazis. A culture that cherishes family values should welcome this story about a courageous man whose every action was motivated by love and preservation of family, and whose greatest trauma—repressed for over forty years and only unleashed during the writing of this book—was over an act of self-preservation committed during the greatest moral crisis of his life.
In Chapter 19, "Like Blood out of the Aorta of a Pig," Bernard comes face to face with the memories of that traumatic evening, which occurred while sitting around the campfire after having slit the throat of an enemy soldier only hours earlier.
One among the legendary Yiddish storytellers
Bernard is a storyteller supreme, in the best tradition of legendary Yiddish storytellers Chaim Potok and Bernard Malamud and Isaac Bashevis Singer, but Bernard's stories are raw, often funny, and true. While the others wrote their stories, Bernard told his. His stories appeared in print for the first time when Never Be Afraid: A Jew in the Maquis was published in 1997. They appear now, as Never Be Afraid: A Belgian Jew in the French Resistance, again in print but also, for the first time, in electronic form. In an appendix, Philip Rosen, former director of the Holocaust Awareness Museum at Gratz College, puts Bernard's experience in its historical context.
"moving, profoundly moving"—Elie Wiesel
"engrossing … wonderful"—George Cohen, Booklist
Back to Our Books